Under the light of GDPR, employee training is compulsory.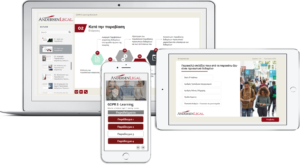 The GDPR e-learning Box educational program is a complete distance educational program for your employees. The goal of the program is to raise awareness and to train your employees in order for the latter to meet GDPR requirements and contribute to the company's compliance.
Profit for your company: avoiding fines for mismanaging employees, gaining competitive advantage and the added value your staff acquires.
The GDPR e-learning Box includes (9) nine interactive training modules wherein the following topics are discussed:
the concepts of the General Data Protection Regulation / GDPR,
the roles of the parties involved (Controller – Processor),
data breach incidents and the manners to manage them,
exercising rights and their management,
policies and procedures that the company must follow,
industry specific training module
Το GDPR e-learning Box:
includes educational material, practical examples, comprehension exercises, case studies and quiz.
can be completed in a time period suitable for the employees either wholly, or partially in units.
Each employee and the company receive a certificate of successful completion of the GDPR e-learning Box.
This e-learning box has been adapted to the need for employee training and contributes to the effective compliance of the company with GDPR requirements.
More specifically, it covers:
The need to raise awareness and train the employees which falls within the tasks of the Data Protection Officer.
The adoption by the company of the organizational measure of employee training for the protection of personal data.